Dedicated to Oksana Vasilyevna Oksanich, 11-24-1974 to 2009
Between Thanksgiving 2010 and Thanksgiving 2011, we hired an investigator to search for Arina's birthmother in Kazakhstan. I never imagined that she would have passed away, and I remember weeping when I got the email. I made my way up to Arina's room, because I felt that the information was hers to know. I crawled into her bed and woke her up to tell her.
"We've found your grandmother and your aunt and your sister," I said, starting with the good news. I followed up with the bad, telling her that her birthmother had passed away. Arina yawned, said "Oh no! That's so sad!" and then announced that she was "very happy" to have another Nana, aunt, and (most of all) a sister before falling asleep again. Just like that.
I don't know what I expected from a six-year-old, but I kissed her cheek, whispered that I loved her, and slunk away to grieve in private.
When I tried to define my grief, I decided:
(1) that I, an only child, had been imagining Arina's birthmother as a sister. I dreamed of exchanging letters and phone calls with her, of finding someone as invested in Arina as I am and being able to get advice, and occasional commiseration;
and (2) that learning she had died both saddened me and struck me with an odd feeling of terror. I imagined that she, as spirit and a type of guardian angel for her lost child, had seen all those moments in the last two years that I'm not proud of . . . all those times I lost my patience and my temper. I realized, then, that I've always wanted, above all, her approval, her confirmation that I'm doing a good job.
Because I'm unable to get that approval from her, I've decided instead that on her birthday, which is appropriately Thanksgiving this year, I'll list the top three reasons I'm thankful for Oksana:
1) The first and most obvious: Thank you, Oksana, not only for making me a mother but also for making me the mother of such a girl!
How to describe Arina? Anglophile that I am, I'll give Emily Brontë the honor:
"Certainly she had ways with her such as I never saw a child take up before; and she put all of us past our patience fifty times and oftener in a day: from the hour she came down-stairs till the hour she went to bed, we had not a minute's security that she wouldn't be in mischief. Her spirits were always at high-water mark, her tongue always going – singing, laughing, and plaguing everybody who would not do the same. A wild, wicked slip she was – but she had the bonniest eye, the sweetest smile, and lightest foot in the parish."
Your mother, Granny Valentina, described you as "kind" and "joyful," though I suspect that you may have put her past her patience "fifty times and oftener in a day" as well. But, I think I speak with Granny when I say that we love you, and Arina, for it.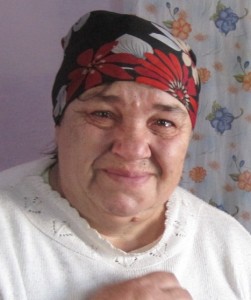 2) Thank you, Oksana, for teaching me compassion.
I have to admit that I was both saddened and a little frightened to hear that you died at the young age of 35 of cirrhosis of the liver. I responded to this information in the same way I respond to everything. I got a new book: Bonnie Buxton's Damaged Angels: An Adoptive Mother Discovers the Tragic Toll of Alcohol in Pregnancy, the kind that is unfortunately only picked up by those who have the most practical need of it.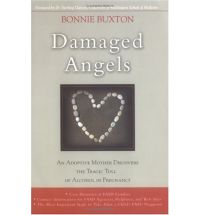 All my life, I've heard criminals dubbed "evil," and those homeless or on welfare dubbed "lazy."
Reading Buxton's book, however, has opened my eyes to fetal alcohol spectrum disorder as an "invisible disability," one that affects an unknowable number of victims — unknowable because, for the most part, alcohol-damaged people are "seemingly healthy children and adults with relatively normal intelligence . . The facial characteristics . . . [are] minimal, and . . . often vanish by the midteens" (44). In fact, Buxton explains that "Mother Nature," to "compensate" for damaged brain receptors, often gives "many alcohol-affected people . . . an engaging personality, excellent verbal skills that mask their disabilities, and a seemingly spiritual connection with animals" (42).
Yet, as clinical psychologist and FASD expert, Ann Streissguth explains, "teratogens, like alcohol, can . . . cause brain damage, and that's birth defects of the brain. And the brain is what mainly influences behavior, and that's where we get the behavioral disabilities that are associated with fetal alcohol syndrome, and the whole spectrum of disorders that alcohol causes" (qtd. in Buxton 40).
A study Streissguth published in the late 90s reveals that a disproportionate number (60%) of her FASD clients had been imprisoned, and even more of them (80%) "had problems with both employment and independent living" (47-48). As FASD Advocate, Margaret Sprenger writes, "Put on your fetal alcohol glasses. You'll see that every time you read the newspaper, cases will jump out that are pure fetal alcohol. The welfare mother who starves her baby to death, the kid who shoots his brother, the sex offender, the repeat offender who hangs herself in prison — most of them are suffering brain damage caused by a mother who drank" (qtd. in Buxton 54).
In short, I've realized exactly what Bonnie Buxton articulates below:
"I realized that in the industrialized world, a large proportion of those countless people living on the fringes of society are not there because they have inferior genes. They are not inherently lazy, stupid, or evil — although their learning and behavior problems make them appear that way. The root of the problem is not childhood neglect or abuse, although for many, disruptive families have compounded their problems. They live in self-perpetuating ignorance, poverty, and crime because they came into the world with permanent neurological damage that could have been prevented. Most are never diagnosed" (59); and, those who are diagnosed are still "not being well cared for through medical, educational, or social service systems" (xii).
Because of you, Oksana, I will be an advocate for the homeless (I know you brought Arina to the orphanage, because you had a "small income" and "no place to live"), and an advocate for all who live on the fringes, too often through no fault of their own. I have a new found appreciation for Christ's injunction in Matthew 7:1: "Do not judge."
For that, I'm thankful.
You must have loved your daughter very much to have fought so valiantly against addiction while you were carrying her. I can't imagine how difficult that must have been, but for Arina to have so few effects (none, according to her pediatrician), you must have tried to refrain as much as possible. For that, I'm thankful too.
3) Thank you, Oksana, for redefining family for me.
I've always known that family has more to do with the loving connections you make in life than genetic makeup. I grew up watching Anne of Green Gables after all.
Still, I could never have imagined that I'd feel so connected to people I've never met before, that I'd feel as connected to them (moreso in some cases) than I do to members of my biological family.
When I get a letter from Granny, written to "her children Scott and Nicole, and her grandchildren Arina and Jack," I realize that I am intimately bound to this woman, as I am to you. And I realize what an honored part of the family you are, since you're among those who have influenced me to the degree that it's literally shaped who I am as a person, in the way that only the closest friends and family members do.
And I'm thankful.
All my love.