Saturday, April 5th, 2008
So, we've been insanely busy. Nicole is taking two night classes, and I'm taking two myself. I know what you're thinking. Dr. Fisk has a PhD, so why would she need more classes? Turns out she doesn't know everything. (I v'e been telling her this for years). So, she has to go to class a bit more to make herself a better teacher. That being said, we haven't updated the web site in a while. In fact, I don't know where to begin, since so much has happened.
I finished a new video (only 2 yrs late!) Nicole and I went to New Orleans, so that she could present a paper at a scholarly conference. While we were there, we stayed with Todd and Brittany. We had a great time! They showed us around New Orleans, while Arina stayed with her Nana and Pop.
For spring break this year, we went to visit Susan, Steve, and Lauren out in Texas with my parents. Arina is an excellent traveler. Along the way, we went by the casino in Tunica, Mississippi and the Crater of Diamonds State Park in Murfreesboro, Arkansas. The Crater of Diamonds State Park is the only diamond mine in the world that is open to the public. So, if you find a diamond, you get to keep it! Below is a picture of us before we struck it rich . . . well we thought this would be the picture before we struck it rich.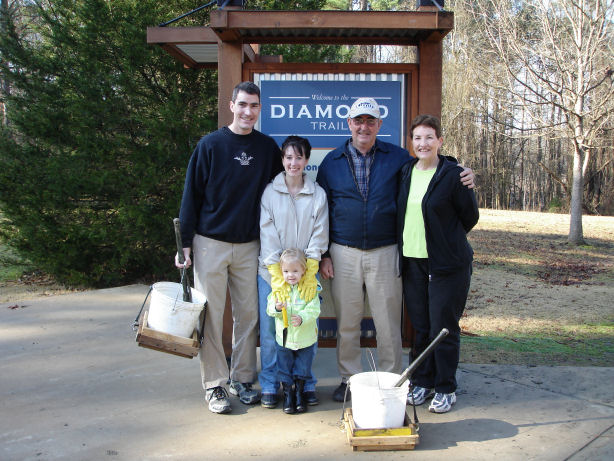 The mine wasn't what you would think. It is a large open field that has been churned up, and you can either walk along the rows looking for diamonds on the surface or dig and filter the dirt through a screen. Arina loved it, because she had a huge open field of dirt in which to play. She would follow her "MeMe" around with her little shovel and say "uh, this a dy-mon?" We, unfortunately, didn't find any diamonds, but we did get to see one that a lady found while we were there (Nicole's friends swear that she was a plant). The yellow diamond was beautiful and probably about a carat uncut.
Arina thought she struck it rich. She found a half-buried rubber iguana that she named "dragon toy." It made her day.
Next, we went to see Susan, Steve and Lauren. Arina and Lauren had a great time playing together. They played "squirt squirt" (a game comprised of squirting things with a spray water bottle), dyed Easter eggs, blew bubbles, watched movies, and went to an arcade.
There are lots of photos of the girls hunting eggs in the gallery. The best moment of the Easter-egg-hunting day: When Arina saw that the plastic eggs had "prizes" in them, she got so excited that she grabbed a real egg and pulled it cleanly in half. Uncooked egg yoke spilled out on Susan's deck. We all laughed, but Arina was sulky and said: "It not funny."
After we got home, we celebrated Easter with Nicole's family. We had another Easter egg hunt in Jefferson, but I was so busy pushing Arina on the swing that I didn't get to take many pictures. Nicole's parents came to Columbia for Easter, so Arina thought it was fun for Nana and Pop to visit her church (see family photo in front of the tulips below).
Next up? Arina will be a bumblebee in the Koger Center's production of "Young Girls in Paris." Cant' wait! More photos to follow after the big performance!