Thursday, July 12th, 2007
What a busy month!  Since my last post, Arina had a zoo day with the Fisk family (MeMe, PaPa, Aunt Kelly, Marley, and Baby Parker), a weekend reunion at Myrtle Beach with her friends from Kazakhstan (Miss Kathy, Miss Jean, and Owen; Garrett, DeeDee, and Dawson), a Fourth of July get-together with her Columbia "aunties" (DC, Nat, and Ra Ra), and a fantastic "A" Day (short for Adoption Day) at Chuck E Cheese.
June 22nd at Myrtle Beach: We got a full morning of playing at the beach, before meeting up for lunch with Kathy, Jean, and Owen.  Arina wasn't too sure about playing in the waves at first, but she adored playing in the sand, so we inched her closer and closer, under pretense of getting water for the sand castle.  Soon she was riding the waves like a pro and "pretend" swimming from Mommy to Daddy, and vice versa.  She also enjoyed the lazy river at our hotel.  She and Scott went down a waterslide, but Scott forgot to cover her eyes, so she refused to go again.  She'd say, "Water, eyes, no."  We're working on articles and prepositions.
Friday night, we met Jean, Kathy, Garrett, DeeDee, and the kids for seafood.  Look at how much they've grown!  Unbelievable.
The Fourth of July wasn't the biggest hit with Arina, because the "BOOM, BOOM, BOOM" of the fireworks scared her.  We managed to get her to hold a sparkler, but that was as good as it got for the Fourth.  Nat made a fantastic dinner, though, and brought sidewalk chalk, which was a hit.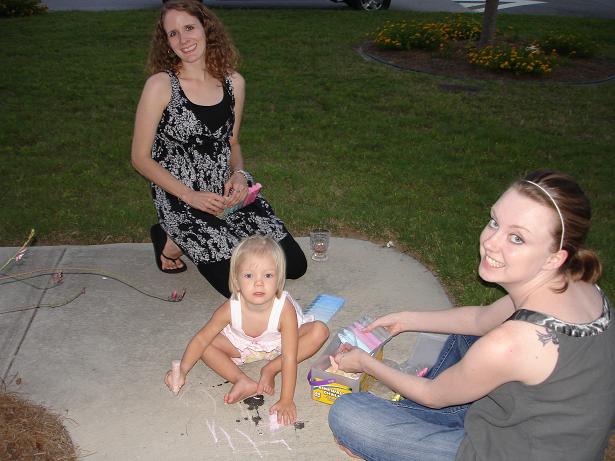 July 10th marked the year anniversary of our court date in Kazakhstan — when we officially became a family.  We celebrated by going to Chuck E Cheese, which Arina loved, and watching videos from our days at Malutka Baby House, which Arina loved more.  She would look at herself and say, "Baby Rina!  Teeny tiny!  Cute!"  So modest! 
Stay tuned for the next post: Arina's 3rd birthday is August 19th, so I'll post again sometime in late August!