Tuesday, June 12th, 2007
Two days late . . . but, believe it or not, next month will be the one-year anniversary of Arina's Adoption Day, and, then, I'll start updating yearly rather than monthly (except on special occasions, of course).  Don't worry Nat, Jordan, and Ms. Leppard; I'll send you personalized monthly updates via email.
This past month, Scott and I enjoyed our first weekend get-away together, sans child.  Arina spent the weekend with Nana and Pop, while Scott and I attended Brittany's and Todd's wedding in White Castle, Louisiana.  We felt like we were dating again and had a wonderful time.  I've included photos of our room; we stayed at Nottoway Plantation, a bed and breakfast, and splurged on the room with gorgeous antique furniture and a very modern, jacuzzi tub. 
As for Arina, she also enjoyed her first spend-the-night weekend with MeMa (who has become MeMe to Arina) and PaPa Fisk.  The weekend was packed full of summer fun: eating watermelon, playing in the backyard, and enjoying cousins Marley and Parker.
Featured photo #1: Arina lounging around with PaPa.
Featured photo #2: Marley teaches Arina how to tie a shoe.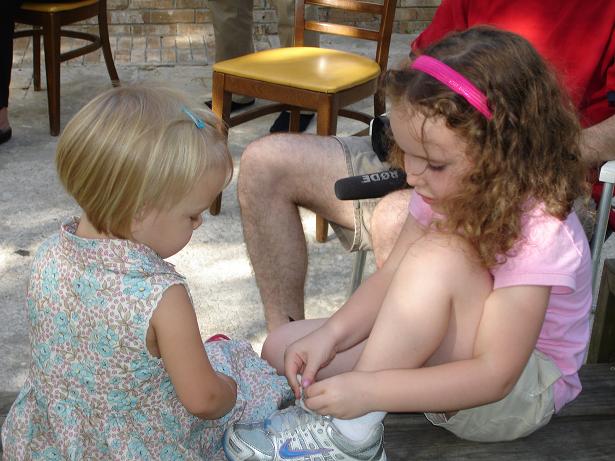 This past Sunday, Scott, Arina, and I attended the Oliver Family Reunion, the event with which I began writing these posts a year ago.  At the last reunion, we explained the adoption process, which we had just started.  This year, we introduced Arina as one of the newest members of the family.  Full-circle, at last.
Next month should be exciting, not only because of Arina's Adoption Day, but also because we have a Myrtle Beach get-together planned with the Whites and the Smiths, two families who were also adopting from Malutka last summer.