Thursday, April 12th, 2007
Although I'm writing this two days after the promised posting date, I have strict instructions from Scott not to apologize.  I thought he was telling me not to apologize because I actually have a good excuse for not being on top of things this month.  (I've been preoccupied with my dissertation, which I successfully defended yesterday!).  Then, Scott confessed that he thinks my apologizing is just getting "too repetitive" — not that he's not proud of me.  He's been teaching Arina to say "Dr. Mommy."
Despite the fact that I've been a hard-working Mom for the past month, Arina has had great fun in both Charleston and Columbia.  She enjoyed her second trip to the beach, beautiful Kiawah Island, so we owe Dr. Feldman, Peter, and Konrad a special "thank you" for hosting us.  The only thing we were worried about was leaving Arina's favorite toy, tur-tle, behind in Columbia.  Luckily, Peter had inflated a special beach toy that we've dubbed "Tur-tle's beach cousin."  Arina was thrilled!  We rode bikes, enjoyed a St. Patrick's Day party, and Arina flirted with Konrad the entire weekend.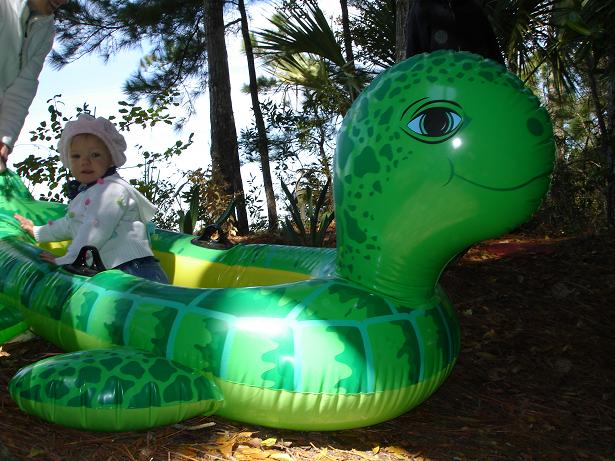 We were able to stop by Scott's parents' house before heading back to Columbia.  Arina's Aunt Susie, Uncle Steve, and cousin Lauren were visiting from Texas, so she was able to spend time with all of the Fisk family cousins, including new baby Parker Owens!  The girls, Marly and Lauren, had dyed Easter eggs the day before and had made a special egg for Arina.  She hunted eggs for the first time at MeMa's and PaPa's house, and although she had never hunted eggs before, she knew exactly what to do.  We handed her a basket, she saw an egg, and in it went!  The only problem was making her give us her eggs so that we could hide them again.  She has definitely learned the word "Mine."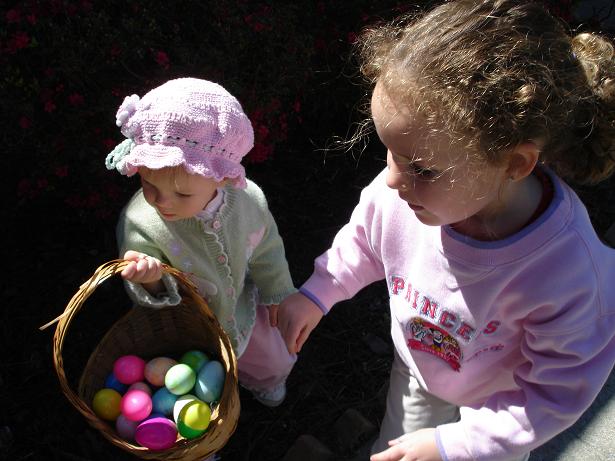 In Columbia, Arina dyed eggs with her "Aunts" — Nat, DC, and Ra Ra.  There are lots of great photos in the gallery, courtesy of Tracy (better known as DC).  The girls said that "yellow" was, by far, Arina's favorite color.  Arina also got to meet Nat's mom, Mrs. Leppard, who gave her her first "Easter basket" full of goodies — bracelots, candy, crayons, candy, bubbles, candy, a whistle, candy, a purse, candy, an adorable flower headband — and did I say, candy?  Mrs. Leppard and Jordan have officially become Arina's favorite people because they understand what two-and-a-half-year-olds need.
Also, Arina's friend from Kazakhstan, Dawson, visited this month.  Garrett, Dee Dee, Arina, and Scott went to the zoo while Mom stayed home and worked on her dissertation.  Sigh.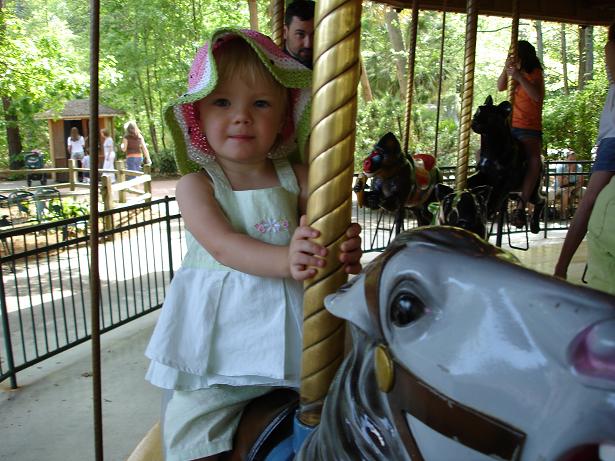 And, finally, Arina's first Easter was . . . messy.  On the Saturday night before Easter Sunday, Arina got sick.  Arina threw up, and I've learned that I don't do well with vomit.  Dirty diapers, I can handle.  Vomit, not so much.  When Scott asked me how he should "clean it up," as it was on both the pillow and sheets in her crib, I said, "Just throw everything out.  I'll get new ones."  I couldn't say that about Arina, though, and had to get the throw-up off her face and out of her eyelashes.  Don't ask me how she managed to get throw-up in her eyelashes.  Bleh.
I'm glad I had read literature about children adopted from orphanages because I wasn't surprised when Arina didn't let us know that she had gotten sick.  She neither cried nor called out.  Thank goodness Scott went to check on her before going to bed that night.  The poor sick baby had crawled to the other end of the crib, and, seeing Scott, pointed at the throw-up and simply said "Sick."  Apparently, children who have grown up in an orphanage (even a Baby House as wonderful as Malutka) know to stay in their cribs and have learned that crying makes little difference in how fast a caregiver can move when she has so many children under her care.
On Easter Sunday, she seemed fine, until we got back from church, and she crashed.  She was still a bit under-the-weather, although she enjoyed wearing her "Rella" (Cinderella) dress, complete with hat, gloves, pearls, and purse.