Thursday, January 11th, 2007
Yes, I'm a day late.  Today's my birthday, though, and Mom is keeping Arina (and the dogs) so that Scott and I can go out.  But, since the house is so clean and so quiet, we've decided to stay in.  Scott cooked a fantastic dinner for me, and now I can spend more time on my post, which is an important one as it's a recap of Arina's first Christmas!
We kicked off the season with a Fisk family tradition, making Christmas cookies at Kelly's house in Charleston.  Arina enjoyed playing with her cousin, Marly, and her cousin's friends.  After awhile, Arina and Marly took off, leaving Scott to finish cutting the cookie dough.  Arina returned to decorate the cookies with icing and sprinkles, or to eat icing and sprinkles with Aunt Kelly while Scott decorated the cookies.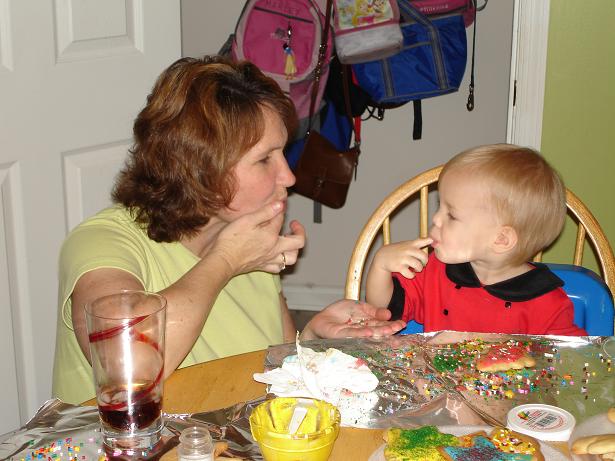 We spent Christmas Eve at MaMa Shirley's house, and Arina was especially excited to see Pop in a Santa Claus hat.  She'd look at him, laugh, and say "Ho, ho, ho!"  She helped me hand out presents to everyone, and it was interesting to see her opening hers.  We've always torn into our presents, opening one right after another.  Arina, however, would open one, say "Wow!," and sit down to play with it.  It was like pulling teeth to get her to leave the first to open the second.  Eventually, though, she got the hang of it.
On Christmas Day, we had lunch at MaMa Shirley's.  While MaMa cooked in her kitchen, Arina "cooked" in hers, a special gift from her great-grandmother. 
We celebrated Christmas again at the Fisks on December 31st, and Arina got to play with both of her cousins, Marly and Lauren.  They all got scooters from their MeMa and PaPa and enjoyed trying them out after lunch.  Unfortunately, Scott forgot his camara for the Fisk family Christmas, so we will have to get some photos from Kelly or Susan and add them to the gallery.
Happy New Year to all!