Monday, November 13th, 2006
Well, I've been scolded by several people for not having updated sooner, but when you see all the photos in the gallery that I had to sort through, resize, and post, you'll understand why.  There's quite a bit of work that goes along with these postings, thank you very much.
October and November have been the months of "firsts."  Arina spent the night for the first time with Grandma and Grandpa Fisk (otherwise known as MeMa and PaPa) on October 21st.  She had a wonderful time playing with her cousin (Marly), sampling MeMa's cooking, and kicking back and watching tv with her PaPa.  The featured photo from this weekend is of Arina's arrival, with suitcase, Marly, and Aunt Kelly in tow.
The next Saturday, the 28th, was a busy one.  Arina attended her first parade (Grandpa Plyler, otherwise known as "Pop," rode in the parade, much to Arina's delight), her first pumpkin festival, and her first rodeo.  At the festival, she rode in a horse-drawn carriage and was told to select her very own pumpkin.  She walked straight to the biggest one, of course, and clued us into her choice by "hugging" it.  The rodeo was, perhaps, the biggest hit, as Arina got to ride a pony.  Papa walked behind her and everytime she passed the rest of us (Mama, Grandma Plyler (otherwise known as "Nana"), and Pop), she pointed excitedly to the pony, as if saying, "Look what I'm on!  Can you believe it?"  Alas, we forgot the camera for the rodeo, although we remembered it for the festival, hence the following shot of Arina and her prized pumpkin.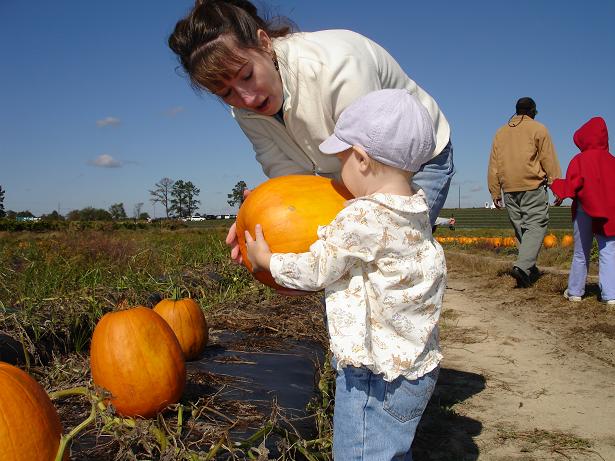 October 31st was, obviously, Arina's first Halloween.  As I mentioned in last month's post, Arina chose her "scary dragon" costume and broke it in many times before Halloween.  She insisted on trying on her costume and practicing her "Grrr" for both sets of grandparents, her cousins Lauren and Marly, and her Columbia "aunties."  She misunderstood the concept of Halloween, thinking that the "treat" part was getting to be a scary dragon.  Imagine her delight when strangers were willing to give her candy too.  She, no doubt, thought that they were rewarding her for saying "Grr" and became more and more theatrical.  By the end of the night, she was crawling on all fours, rushing into houses before we could stop her, screaming "Grr" at the top of her lungs, and laughing hysterically.  At least, she blew everyone a kiss as she was leaving.  I let her gorge herself on candy that night until I felt like a bad mom, at which point I made her stop.
This past weekend was, perhaps, the most exciting of all as Arina got her first glimpse of the ocean.  Although she seemed unsure at first, she was soon jumping, fully clothed, into the water and playing in the biggest "sandbox" she had ever seen.  Needless to say, she had a wonderful time.  Dr. Feldman, who graciously hosted us, remembered Arina's fondness for shovels and supplied her with an extra large one.  Thankfully, no one was hit on the head. 
She got to experience Kiawah island in style, first on a bike and then in a kayak.  You would think she had been raised around bikes and kayaks, as she was perfectly comfortable with both.  Other "firsts" in a wonderfully packed weekend included her first concert (the American Music Festival, a yearly Kiawah Island event), her first lesson on the electric guitar, and her first pancakes.
A special thanks to Dr. Feldman, Peter, and Konrad for a truly unforgettable weekend.