Saturday, September 9th, 2006
I promised to update our journal once a month, on the anniversary of Arina's Adoption Day.  Although it's not technically September 10th, it will be in about twenty minutes.  Yes, now that I'm a mother, I'm a night-owl.  It's amazing how much more I get done when husband, child, and pets are asleep.
Arina has been a "Fisk," officially, for two months now.  I find myself thinking, "Only two months . . . ?"  It's difficult to imagine what life was like without her.
Since she's been home, she's learned several new words, including "up" (which she says as soon as her bottom touches the toilet — we've definitely regressed with the potty training) and "yuck" (which she says when she has an "accident").  Unfortunately, since she likes saying the word "yuck," she's become quite fond of having accidents. 
Brief summaries of some major events since my last entry:
August 26: Jill Jividen hosted a shower in honor of Arina's homecoming and birthday.  Since most people who attended are working on their PhDs in Literature, Arina received a first-rate collection of books!  In true childish fashion, however, she spent the majority of her time playing with a set of children's clothes hangers, climbing in Tucker's dog bed, and hiding in a oversized gift bag.  The featured photo for the August 26th shower is entitled "Fun with Matt, Todd, and hangers."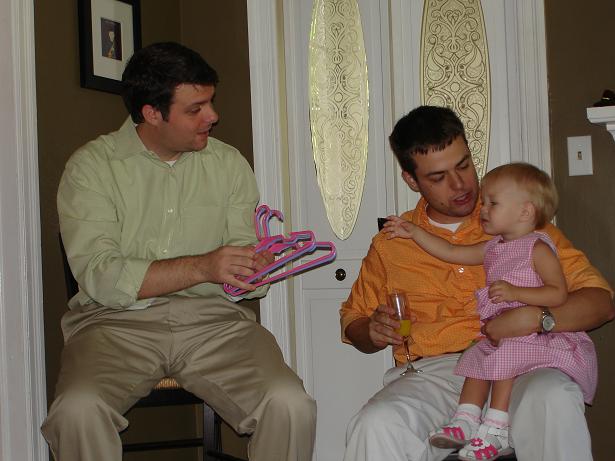 August 27: Our friends from TRUMC, who had already surprised us with a clothes basket full of toddler essentials upon our return to the U.S., treated us to our final baby shower.  Many of these friends have children around Arina's age, so they know what kids — and mothers — like.  Example: One of the greatest inventions of the twenty-first century is, in my opinion, "Color Wonder."  Arina got two Color Wonder sets, one with markers and one with finger-paints.  The wonderful thing about Color Wonder is that the markers and paints will only mark on Color Wonder paper.  So Arina can draw or paint herself, the walls, or Emma and Mr. Knightley, and no damage is done!  I've been trying to figure out how it works, as it seems like something that belongs in Hogwarts School of Witchcraft and Wizardry. 
The photo for the August 27th shower features Arina, who is excited over her "Fridge Farm" magnets.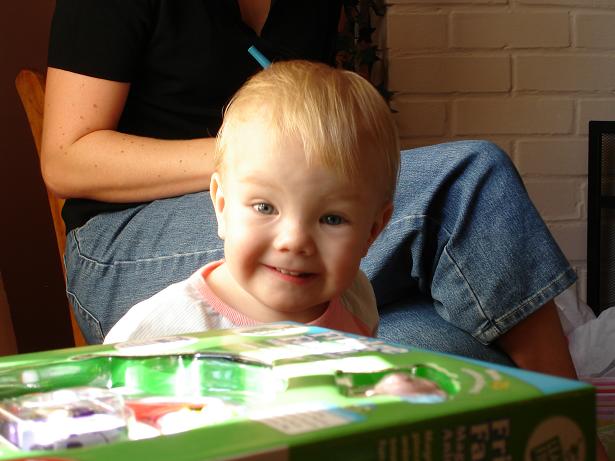 September 3: Arina and Scott joined me for the first Nineteenth-Century Club get-together of the semester, which was held at Dr. Feldman's lake house.  One of the highlights of the day was Arina's first canoe ride (see photo).  You can see barely see her — she's beneath the pink hat, in a little seat between me and Dr. Feldman.  The fact that she's sitting is quite the accomplishment, as we were worried that she would tip the canoe in her enthusiastic attempts to look over the side or to help Mama row.  As soon as we got out of the canoe, she found Dr. Feldman's husband, Peter, who she seemed to think was more fun than anyone else at the party, a close second being Celeste's husband, Frederic.  Yes, she's still a flirt.