May 26th, 2012
I was shocked to see how long it's been since I've updated the family blog. So, this will be a monster blog post, covering the following main events: (1) Christmas 2011; (2) my NYC trip with Scott in January 2012; (3) the family move to Holly Hill, SC in February 2012; (4) Easter 2012; and (5) my Boston trip with Scott in May 2012.
And, I may go back and revise this post at some point, because I know I have more photos that I haven't found yet; I remember that I took lots, for example, when we went to the Edventure Childrens' Museum in Columbia, SC with the Fisks and Owens. Those pictures are, undoubtedly, hiding on a SD card somewhere.
So, for now, I give you Christmas 2011! Each year, we're lucky to be able to spend the Holiday with my family in McBee and Scott's family in Charleston. Because this past Christmas was so unseasonably warm, the kids spent their time in McBee playing outside.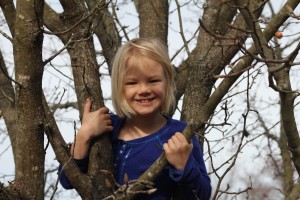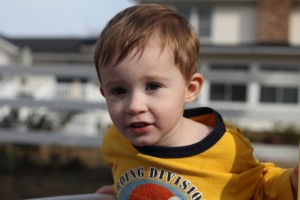 We were able to get more traditional Christmas pictures in Charleston, such as this photo of Jack with MeMe's Christmas tree:
And this photo of Arina, opening presents: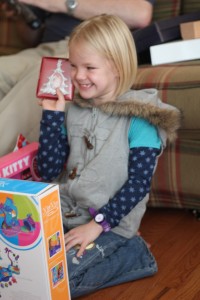 This Christmas I decided to do something new: I bought nearly all of our presents from greatergood.com. I spent way too much on Christmas, but I justified it by reminding Scott that a portion of all the money I spent went to charity, and that, in the end, we funded: 650 cups of food for the hungry; 2 books for children in need; 196 bowls of food for animals in shelters; and we helped fund healthcare for 72 children.
So, this will be my new Christmas tradition, I think. One of my favorite gifts was a pair of wooden mice that Arina and Jack got to paint. Scott's going to tie cords to them, and we'll hang them on the tree this year:
Admittedly, though, some of the presents were . . . interesting. Example: this Alpaca wool sweater I got for myself that was made and fairly traded in Peru. Even though I ordered a small, my fashionable cousin, Jessi, says it makes me look pregnant. 🙂
BUT, it kept me warm in NYC — and, yes, that's a Monet behind me, which leads me to event #2: my trip with Scott in January to see Saturday Night Live. We're circled in red, below.
Scott's more of a SNL fan than I am, and he entered a lottery for tickets — and won! I'm always up for a road trip, and was even more on board when I found out that Daniel Radcliffe was hosting. I am, after all, a fan of all things Harry Potter and Daniel Radcliffe as host promised lots of Potter references.
And, because we're not in NYC every day, we made the most of our short time there. We spent a fabulous day that involved eating in Chinatown with friends Matt and Chelsea, double-dating with M&C at MOMA, drinks and dinner with Matt, and then a Broadway show: Wicked!
Thanks to Matt and Chelsea for our best NYC experience yet! — and for this photo, which they took of us at MOMA:
(3) In February 2012, we moved to Holly Hill, SC — which was a bit unexpected, to say the least. But, Scott got a new job opportunity — to run Bill Fisk Machine Shop, the family business. I think he has great potential as a manager, so I suggested we move halfway between Columbia and North Charleston. This halves our work commute, and makes Holly Hill, SC our home base.
I never thought I'd move back to a small town. Holly Hill has more stoplights than McBee, but only barely. However, I was sold on the idea when we had the opportunity to buy this 100-year old Victorian farmhouse for the same price as the (much smaller) one we were living in while in Columbia: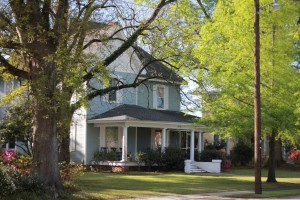 See, below, two of our favorite things about the house: the screened-in side porch, with a swing on which Jack can nap . . .
. . . and a rustic shed in the back yard with attached chicken coop! It looks like a construction site in the photo, but only because we — or, rather, our chickens — had an unfortunate encounter with a raccoon or possum, which prompted Scott to make some revisions to the coop. See Coop Knox, below: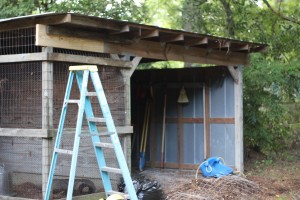 Current residents of Coop Knox include four Orpington hens: Meg, Jo, Amy and Beth (named after Louisa May Alcott's Little Women, of course). And they are little women, indeed. Here are the kids with the chicks, when they were babies: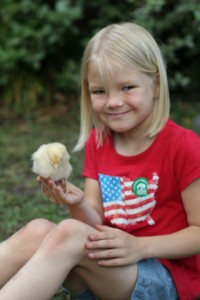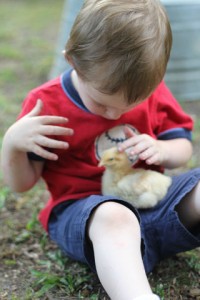 (4) We always spend the Easter holiday with the Fisks, since Scott's sister Susan and her family visit from Texas during the Easter holiday. The weekend was beautiful and full of new Spring clothes . . .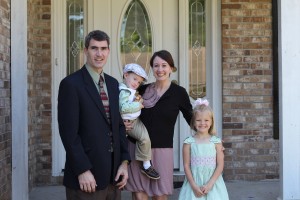 trains for Jack,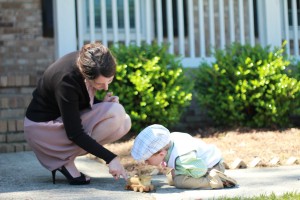 and Easter eggs for all.
(5) Scott and I are, at this moment, on our way to see friends Sarah and Matt in Virginia, after having spent a fabulous couple of days in Boston. I was in Boston for work — my film debut. 🙂
I was hired as "Talent" for an educational film project for Cengage, produced and directed by Hawkes Media. Working for Cengage/Hawkes Media didn't feel like "work" at all, though: (1), because they called me "Talent" and had a stylist to take care of my wardrobe, hair and make-up; and (2), because they are such kind, fun, smart and interesting people that I would have chosen to hang out with them after the shoot, just for fun.
Scott and I decided to make a vacation out of it, though, so we walked Quincy Market, went to a Red Sox game, and ate lunch the following day at the best Italian restaurant in town (La Familia), followed by canolis from Modern Pastry. Thanks to Bill, "the sound guy," for the fabulous recommendation.
And thanks to Michael, Dan, John, Bill, Alex, Tim, Courtney, Sherryn, and my fellow "Talents" (Audrey, Patrick and Adam) for everything. I had a ball!
And, some Anira-isms to close:
1. Scott, opening his Christmas present from Arina: "Socks! Just what I've ALWAYS wanted! This is the best Christmas present EVER!"
Arina: "I'll get them for you next year too then."
2. One of the younger kids in Arina's class tugged on my sleeve as I was leaving one morning and said: "I have to tell you something! Arina forgot my dog!"
Me, looking at Arina: "What?"
Arina: "Yesterday, Trey told me that his fish died. I told him not to worry about it — that we'd give him a dog."
I would have LOVED to give Trey one of our foster dogs. But, I did the grown-up thing and said, "I should probably talk to your mother about that, Sweetheart."
3. Me to Arina: "Were you good at school today?"
Arina: "Yes."
Me: "How do you know?"
Arina: "Ms. Julie said so."
Me, suspicious: "Arina, is that the truth?"
Arina: "No."
Me, angry: "Then why did you say it?"
Arina: "I heard Ms. Julie say the word 'good.' It could have been about me.'"
Somehow, I seriously doubt it . . . but I held my tongue.
4. Science has become Arina's new bane. An example of a science assignment, with Arina's answers, is as follows:
Question: "The moon is made of _____ and covered with dust."
Answer: "cheese."
Question: "Why can we see both the Moon and the stars in the night sky?"
Answer: "Because they're the only things in the sky at night."
Question: "What happens on the other side of the Earth when it is night where you live? How do you know?"
Answer: "It's day time on the other side. Because I learned that."
Question: "Why do you need to know about  the weather?"
Answer: "So you won't get hurt or sick."
Arina's response, after I explained that it has more to do with which clothes to wear: "Bet you'd get hurt in a blizzard. And that you wouldn't care about clothes."
5. From Arina's government homework:
Question: "Suppose you could have signed the Constitution. Write a law or a right that you would want to see in the Constitution."
Answer: "Don't shoot our President. Or our eagle."
6. From Arina's grammar homework:
"Use a sentence with 'myself.'"
Answer: "I call myself me."
7. Jack, waving around his toy truck: "I play with school bus!"
Me: "Jack, that's not a school bus. That's a big truck."
Arina: "Let him dream, Mom."
And, our first Jack-isms!
1. Jack was spending the weekend in McBee, and he actually paused to talk to me on the phone.
Jack: "Got-cha Mommy!" followed by off-the-line squeals.
Me to Mom: "What?"
Mom: "He just squirted the phone with a water gun."
2. At the change of season, Jack refused to wear short sleeves. He cried, pulled at them, and said, "Broken!"
3. Jack, running: "I so fast!"
4. Jack, crying over his dinner: "I DON'T WANT IT!"
Me, frustrated and holding up an imaginary pill: "Jack, this is a CHILL PILL. You need to take it."
Jack, after a pause: "I DON'T WANT IT! I DON'T WANT CHILL PILL!"
Other noteworthy things about Jack at 2 1/2:
He has quite the temper. Favorite phrases include: BE QUIET!; CHILL OUT!; THAT'S ENOUGH! (which he announced to the entire Fisk family after posing for too many Easter photos with his cousins); I DON'T LIKE/WANT IT!; THAT'S MINE!; and THIS NEEDS BATTERIES! (which he says whenever anything doesn't work like he thinks it's supposed to).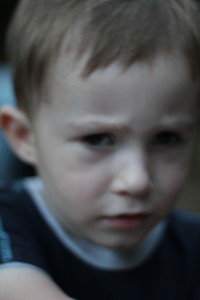 He tries to boss all of us (me, Scott and Arina) at home, although at school he is apparently a quiet, mild-mannered and polite ("please" and "thank you") introvert. So, yes, we have a Jekyell and Hyde on our hands.
We've initiated time-out for "Hyde," who then cries for whoever didn't put him in time-out. Example: "I want Mommy!" or Rina or Nana or Pop or MaMa Shirley.
Yes, most of the time, Scott is the disciplinarian — with Jack.
What can we say? Arina and I are suckers — way too easily charmed by the baby "big boy" of the house: